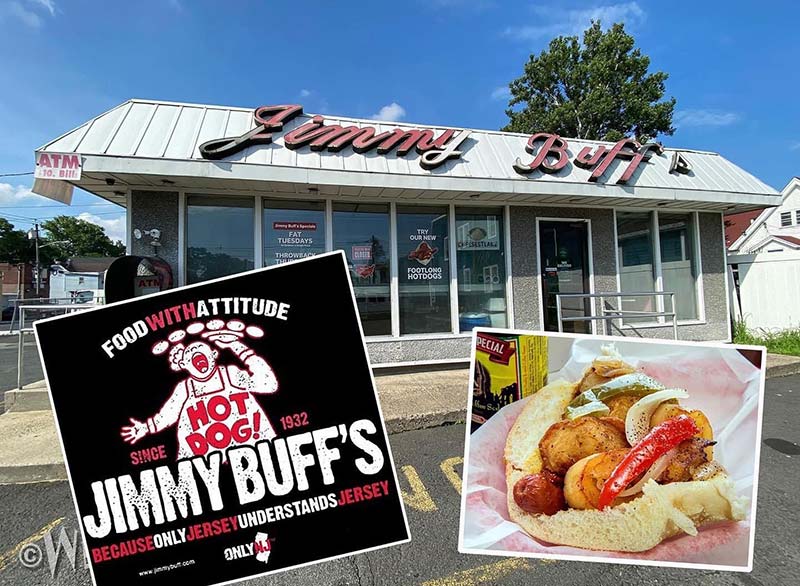 Well that's a wrap, folks, the Dog Days of Summer are over and the Summer of 2020 is in the history books! And since today's the first day of Autumn, that means it's time to announce the winner of Weird NJ's TOP DOG competition, as chosen by YOU, our readers. And, with 1,129 "LIKES", we would like to congratulate Jimmy Buff's of West Orange, NJ! As a family run business for 1932, we thought it would be appropriate to have James Racioppi himself, the owner of Jimmy Buff's, comment.
"It's an honor to be chosen as Top Dog by the people who actually eat them. They are the true judges. It makes all the hard work and sacrifice worth it and my son Thomas and my cousin Mike from Kenilworth and myself thank you for keeping us in business for 88 years. We promise you something BIG on our 100th anniversary. I would also like to thank our tireless employees who make this all happen. Lastly thank you Weird NJ for letting the people speak, and they spoke."
Here's a bit little history on Jimmy Buff's, and the origins of the Italian Hot Dog in Jersey, from Weird NJ culinary correspondent Mark NP:
"The Italians in Newark came up with their own unique style of Hot Dog. You can still enjoy the depression-era delight that Mary Racioppi invented back in 1932. Back then, she stuffed hot dogs into a pizza dough roll and smothered them with peppers, onions, and potatoes. Her first customers were her husband's poker buddies. Soon, though, people started coming for the food instead of the card game! So Jimmy "the Buff" Racioppi and his wife opened up a shop downstairs from their apartment in Newark. The same family has carried on the business to this day. These days there are lots of places where you can get a great Newark style Italian hot dog. However, Jimmy Buff's will always hold the distinction of being the first. Check out their West Orange and Kenilworth locations for the real deal."